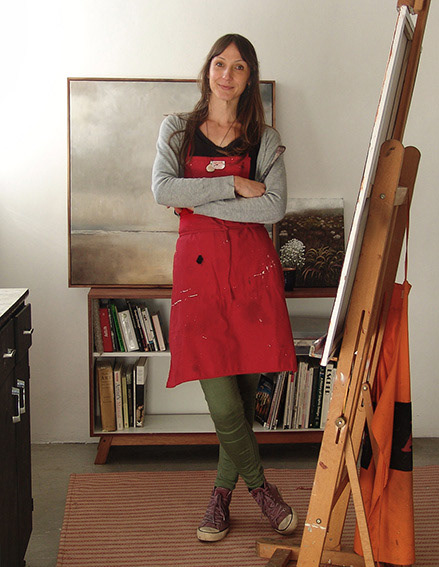 Ronel Human was born in Durban in 1978. She completed her Bachelors Degree in Graphic Design at Technikon Pretoria during 2002. After studies she worked as Graphic Designer at various studios in South Africa and London. After moving back to South Africa in 2005, Ronel started to focus more on oil painting. She currently lives in Paarl with here husband and two boys.
Art
Exhibitions
2006. Group exhibition at 'The Gallery', Duncan Yard Hatfield Pretoria.
2007. Group exhibition 'Paused' at Platform on 18th in Pretoria.
2008. Work showcased at Haas in Cape Town, G2 Gallery Cape Town and Dorp Street Gallery Stellenbosch.
2013. Group Exhibition 'Heart', Donna McKellar Gallery, Kalk Bay.
2013. Group exhibition 'Seascape', Casa Labia, Muizenberg Cape Town.
2014. Group exhibition 'Muse', Casa Labia, Muizenberg Cape Town.
2015. Group exhibition 'Kingdom', Cavalli Estate, Somerset West.
2016. Group exhibition 'Flowers in Art' at the Castle, Cape Town. 

2016. Group exhibition. 'Bennett Contemporary Annual Art Fair', Cape Town.
Graphic Design work experience
2008 - 2016
Artist and freelance graphic designer.
Clients:
Good Taste Magazine
Viscom LED Austria
Flamebox Business Consultancy
Grander Wasser Austria
Apartment in Kitz Austria
icandi CQ Jhb
LDS Pretoria
ATC Pretoria
Warp Development Pretoria & Stellenbosch
Crystally Yours Pretoria
The Lime Envelope Pretoria
Modo Cape Town
2007
icandi communications, Rivonia
www.icandi.co.za
Graphic Designer
2006
Soak Productions, Pretoria
www.soakproductions.co.za
Designer and Member
Clients:
Archiway Architects Pretoria
ISS Afghanistan
icandi Jhb
Flamebox Business Consultancy
Warp Development
2004 - 2005
Lived and worked in London
Freelance designer at
Barrelfield Publishing Co and
Two Feet South.
2003 - 2004
icandi communications, Rivonia
www.icandi.co.za