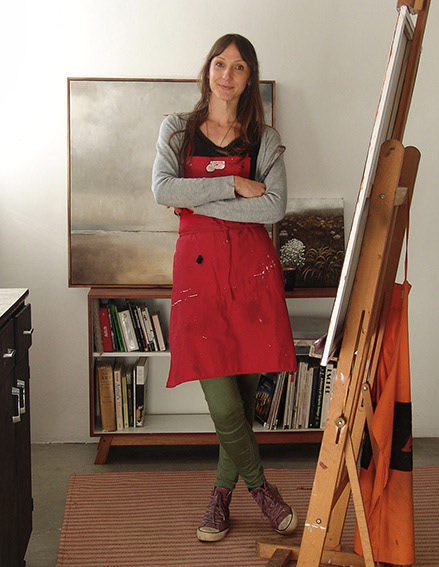 "Since moving to the Western Cape in 2008, we spent a lot of time in the beautiful natural surroundings of the Cederberg, Karoo and Peninsula. My work is a depiction and reflection of the personal connection I have with my natural environment. The simplicity of direct physical contact with nature by spending time in the open and wild spaces is a process of discovery. In nature, we can explore a deep state of mind. More than a photograph, paintings provoke a stronger memory of the time. Painting offers the opportunity to reveal experiences of the spirit intuitively. Our sense of the divine can be most powerfully mediated through our relations with the world of nature."
Ronel Human was born in Durban in 1978. She completed her Bachelors Degree in Graphic Design at Technikon Pretoria during 2002. After studies she worked as Graphic Designer at various studios in South Africa and London. After moving back to South Africa in 2005, Ronel started to focus more on oil painting. She currently lives in the Western Cape with here husband and two boys.
Art
Exhibitions
2006. Group exhibition at 'The Gallery', Duncan Yard Hatfield Pretoria.
2007. Group exhibition 'Paused' at Platform on 18th in Pretoria.
2008. Work showcased at Haas in Cape Town, G2 Gallery Cape Town and Dorp Street Gallery Stellenbosch.
2013. Group Exhibition 'Heart', Donna McKellar Gallery, Kalk Bay.
2013. Group exhibition 'Seascape', Casa Labia, Muizenberg Cape Town.
2014. Group exhibition 'Muse', Casa Labia, Muizenberg Cape Town.
2015. Group exhibition 'Kingdom', Cavalli Estate, Somerset West.
2016. Group exhibition 'Flowers in Art' at the Castle, Cape Town. 
2016. Group exhibition. 'Bennett Contemporary Annual Art Fair', Cape Town.                                                                                            
2017. Group exhibition. 'Hemel en Aarde' at Daniel Kok Gallery, Hermanus.
​​​​​​​